Comfort Air Distributing was founded in 1987 by Jerry and Jim O'Mara with a commitment to bring stability to the Rheem brand in Colorado and Wyoming. In 2019, Illinois-based Munch's Supply purchased Comfort Air with a commitment to growth and continuing the tradition of being a customer-focused distributor.
Over the past three decades, there has been a lot of change in Colorado's distribution marketplace. All the while, Comfort Air Distributing has grown from eight employees in a single location, to 40-plus employees with three convenient locations in Denver, Colorado Springs and Centennial. The reach for our delivery area even extends north into Wyoming.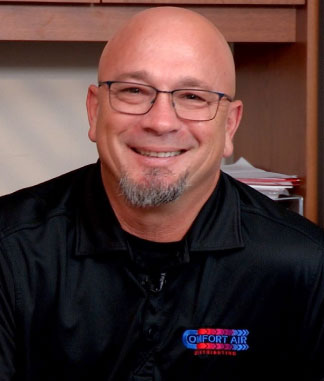 "In this dynamic and challenging HVAC marketplace, the Comfort Air Distributing team is extremely focused, dedicated and committed now more than ever to the success of our contractor partners. We will always strive to provide you with superior service, product knowledge and having the equipment you need when you need it."
– Andy Brueggeman,
  Vice President
At Comfort Air Distributing, our active memberships in local and national trade groups help ensure we are up to date with the latest information and standards. In addition, many of our team members have played integral roles in these associations as individuals.
We are proud of everything we've accomplished over the years, but the thing we are most proud of is that our company continues to grow out of a culture of service beyond the business. Our employees, vendors and customers work together to support two worthy causes – Advocates for Children CASA and Homes for Our Troops.
Court Appointed Special Advocates (CASA) for Children: Every year, Comfort Air Distributing supports CASA with cash donations, free media time, and free public service announcements with our professional athlete spokespersons. We have also sponsored events for kids such as watching the Rockies at Coors Field. CASA serves children in Arapahoe, Douglas, Elbert and Lincoln counties with the help from tutors, mentors and professional community volunteers. For more information, visit adv4children.org.
Homes for Our Troops: Every November, Comfort Air Distributing collects donations to help veterans through Homes For Our Troops. All collected donations are matched by Comfort Air Distributing. Homes For Our Troops is a non-profit organization that builds and donates specially adapted custom homes for severely injured post-9/11 veterans. These homes help to restore some of their freedom and independence, enabling them to focus on rebuilding their lives. To learn more, visit hfotusa.org.